Restaurants & Bars
Tease your taste buds with authentic Mexican flavors at Rita's Taco House, or treat yourself to a tantalizing multi-course fusion feast at Latino. And pair every single succulent bite with top-notch cocktails mixed to perfection or wines and beers from around the world. Whatever you're in the mood for, you'll find it at this acclaimed Riviera Cancun resort. Margaritaville Island Reserve Riviera Cancún Island Reserve is home to four celebrated restaurants offering something to satisfy any craving. Every restaurant here has its own story and concept inspired by Jimmy Buffett's lyrics, and the incredible cuisine at each is as unforgettable as the music behind it.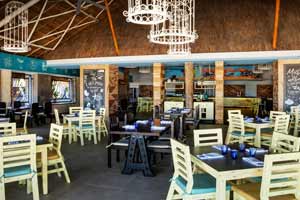 The Beach House
international cuisine
Located beachfront, side on the warm, powder-white sand, this open-air Caribbean-inspired restaurant offers a mouthwatering selection of international cuisine and a la carte options for breakfast, lunch, and dinner. Dig in to signature dishes like the savory License to Chill Burger and fresh ahi poke nachos, all served in a casual yet elevated space. If you want to up the ante, use our poker menu and let the cards pick out a dish for you.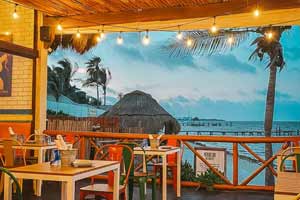 Rita's Taco House
Mexican Cuisine
Rita's Taco House celebrates classic beach-inspired fare and flavors from across Mexico — all paired with margaritas featuring top-shelf tequilas and mezcals. Inspired by one of the characters in the song "Margaritaville," this oceanfront guest favorite is a great spot for lunch, dinner, and plenty of fun surprises. You'll find mariachi shows, tequila tastings, cubilete dice games, and more here. Make sure you order our signature margarita, the License to Chill, and try our signature Shark Bite taco or XXL Al Pastor Burrito. Drink service also extends to the pool, so you can order all your favorites cocktails while unwinding in the sun.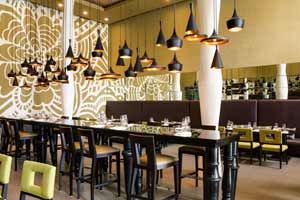 Latino
Latin flavors with Asian spices
Latino offers the best of two culinary cultures, combining Latin flavors with Asian spices and cooking techniques. Dinner here is like taking a ride on Jimmy Buffett's personal seaplane, the Hemisphere Dancer, with stops in top culinary capitals from east to west. Savor arepas, patacones, cachapas, and curries made with the freshest ingredients and served in a modern dining room.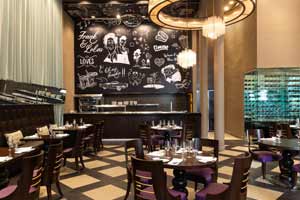 Frank & Lola's
romantic dining experience
Named for Jimmy Buffett's 1985 hit from the album Last Mango in Paris, Frank & Lola's is one of our best-loved restaurants for a romantic dining experience. If you're curious about the story behind the song, check the blackboard inside the restaurant to discover Frank and Lola's sweet tale of love. The dishes here are just as memorable as the restaurant's namesake. Dinner consists of housemade pasta, classic Italian staples, and fine wines from the Old World (and the New). Make sure you try our signature dish — a tiramisu we prepare tableside.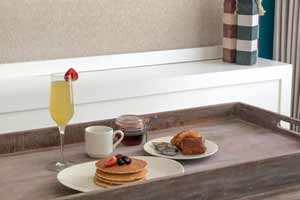 24-Hour Room Service
In Room Dining
There's nothing like the comfort and convenience of enjoying a delicious meal in your spacious room. Margaritaville Island Reserve Riviera Cancún makes it easy to satisfy your cravings any time you like with 24-hour room service you can order via your TV, phone, or GA app. Fancy a dip in the pool? We also offer swim-up room service during the day. It's all part of the experience when you stay at a five-star Riviera Cancun resort like this one.